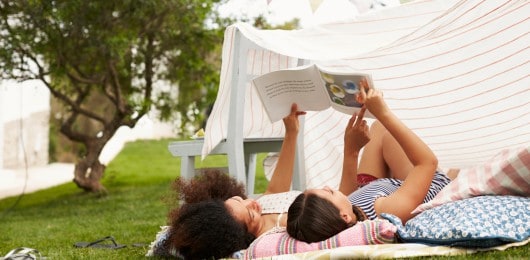 Reading activities during the summer can play an important role in helping students maintain their reading skills. Summer slump, or the potential for academic skills to regress during school vacation, is a concern for many students.
Children with language-based learning disabilities, such as dyslexia, may be at a higher risk of summer slump than their peers.(1) More generally, children who may also be more vulnerable to summer slump are those who take a vacation not just from school, but also from engaging with text during the summer months. These reduced reading experiences may be because students don't enjoy reading, they may not feel good about their reading skills, or they have limited access to the library or books at home. In addition to options to enroll students in summer reading instruction, camps, or related activities, other options are accessible to all families at little to no financial burden.
Parents can help by considering three goals.
First, parents and children can set a reading intention together about what to achieve during the summer. A reading intention can describe what to do and how it will be done. The focus does not have to be on the total number of books read, but can also be on what each child wants to learn about (e.g., the solar system, gardening, etc.). Creating a certificate or written agreement that both parents and children sign can offer a fun way to support this commitment. This goal can also be achieved through summer reading programs offered locally in libraries or community centers.
Second, identify the correct reading level for your child. To do so, you may seek assistance from your school or library staff. One rule of thumb for texts appropriate for a child to read independently is that they read five or fewer words incorrectly for every 100 words in the text. Independent level texts can be read by the student on his/her own, or students can read these texts aloud to others. Keep in mind that texts that are more challenging should not be excluded from summer reading lists as these may be great candidates for parents and children to read together. Identifying your child's reading level for books she or he can read independently and those she or he can read with a partner is an important goal to aim for before the end of the school year.
Third, parents can identify their child's areas of interest. Collecting topics that are intriguing, exciting, informative, and of interest will be key to selecting high interest reading material that children are motivated to read.(2) More importantly, the motivation to learn about high-interest topics by reading can help struggling readers overcome some barriers; this is a common trait shared among successful adults with dyslexia.(3)
For children with language-based learning disabilities, such as dyslexia, in particular, summer vacation provides an opportunity for positive reading outcomes, but to achieve this, reading must be integrated into summer activities. To access appropriate texts, families can visit the local library, enjoy book swaps with neighbors, or explore online reading opportunities.
Several organizations offer online texts for students with dyslexia. TextProject offers free books across a wide range of reading levels. Bookshare is a free online library that offers e-books for students who have challenges accessing print. The Perkins Library offers free reading resources (e.g., audio, large print books, playback equipment) for Massachusetts residents with reading disabilities. Learning Ally offers audiobooks that can be useful for pairing with texts (i.e., listen and read at the same time) that students may otherwise have some difficulty reading independently.
In addition to supporting positive reading experiences during the summer months, families may consider contributing to research efforts aiming to improve outcomes for struggling readers. Supporting area researchers is a way to empower families and children with reading disabilities or difficulties, advance the science of reading, and meet other community members invested in supporting reading development. These opportunities range in their time commitment, gift card and prize offerings, and location; more information can be found on the website of the Massachusetts Branch of the International Dyslexia Association.
For children with learning disabilities in particular, summer vacation provides an opportunity for positive reading outcomes, but to achieve this, reading must be integrated into summer activities.
---
Joanna A. Christodoulou, Ed.D. is an Assistant Professor in the Department of Communication Sciences and Disorders at the MGH Institute of Health Professions in Boston, MA. She is currently the director of the Brain, Education, and Mind (BEAM) Lab and studies reading development and language-based disabilities in children. For more information, or to join a BEAM research study, please contact the Lab via email or on Facebook.
*A previous version of this article was published on Landmark360° on June 30, 2016.

Resources
(1)  Christodoulou, J.A., Cyr, A., Murtagh, J., Chang, P., Lin, J., Guarino, A.J., Hook, P., & Gabrieli, J.D.E. (2017). Impact of intensive summer reading intervention for early elementary school children with dyslexia. Journal of Learning Disabilities, 50(2), 115-127.
(2) Kim, J.S. (2007). The Effects of a Voluntary Summer Reading Intervention on Reading Activities and Reading Achievement. Journal of Educational Psychology, 99, 505-515.
(3) Fink, R. (1998). Literacy development in successful men and women with dyslexia. Annals of Dyslexia, 48, 311–346.