Our Private Reading & Math Tutors Specialize in Helping Plymouth Students With Learning Challenges Including Dyslexia, ADHD, Language-Based Learning Disabilities, and More
The Commonwealth Learning Center (CLC) is a non-profit educational center established in 1988 by the Stratford Foundation. We provide one-to-one teaching, assisting students from Plymouth and beyond, using a customized plan to meet the needs of each student.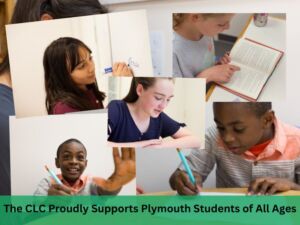 Our teachers have special expertise in working with students with learning disabilities, including dyslexia, ADHD, language-based learning disabilities, non-verbal learning disabilities, and executive function difficulties. Our team also offers educational assessments.
The CLC offers programs for students in kindergarten through twelfth grade, for college students, and for adults who wish to improve their basic skills. Tutoring services are available in reading, writing, math, exam preparation, academic support, and study skills. Our educators are highly skilled and trained in methods that have been proven to be particularly effective for students who struggle to learn through traditional curriculum materials.
From learning to master their note-taking skills to strengthening their understanding of how to be successful with learning differences such as dyslexia or ADHD, our students thrive in our relaxed and supportive teaching environment.
Commonwealth Learning Center
220 Reservoir St #6
Needham, MA 02494
(781) 444-5193
Here are some of the services we offer our Plymouth students:
Local Tutoring Services
On Cloud Nine® Math
Testing and Diagnostic Program
Study Skills Program
Tutoring Services for Kids
Advanced Math Tutors
Tutoring Services for Adults
The Landmark Method for Teaching Arithmetic
Tutoring
TouchMath®
GED Test Prep
Wilson Reading System
SAT, PSAT, SSAT, and ISEE Exam Preparation
Elementary Tutoring
Test Preparation
Elementary Math Tutor
Project Read® Reading Comprehension
Educational Services
Orton-Gillingham
Educational Assessments
College Prep
Dyslexia Tutoring Specialists
MCAS Test Preparation
Tutoring Programs
Tutoring for Learning Differences
Read More...
On This Page
Services Available to Plymouth Students
Personalized Tutoring Support at Commonwealth Learning Center in Plymouth, MA
Here are the top four specialized services we offer
Educational Assessments
Reading Tutoring in Plymouth, MA
Orton-Gillingham
About Wilson Reading System
The Lindamood Phoneme Sequencing™ Program (LiPS)
The Nancibell® Visualizing & Verbalizing® Program
Math Tutors in Plymouth, Massachusetts
Test Preparation in Plymouth, MA
Advantages of CLC Tutoring in Plymouth, MA
Get a Free Evaluation Today
ADD vs. ADHD: Understanding the Distinction
Diagnosing ADD and ADHD in Plymouth Kids
About Plymouth, MA
Local Plymouth favorites
Related Topics for Plymouth Services
Personalized Tutoring Support at Commonwealth Learning Center in Plymouth, MA
Commonwealth Learning Center (CLC) is a distinctive tutoring hub catering to Plymouth, Massachusetts. Our tailored approach sets us apart, providing individualized attention, a departure from conventional group tutoring centers. Recognizing the unique challenges and learning goals of each client, CLC fosters a nurturing and patient environment for students spanning kindergarten through adulthood.
We address the needs of learners at every skill level, whether seeking homework aid or contending with learning disabilities. Our adept tutors, equipped with advanced degrees in special education, math, and reading, bring extensive experience in assisting individuals managing ADHD, dyslexia, executive function difficulties, language-based learning disabilities, and non-verbal learning disabilities.
Here are the top four specialized services we offer:
Educational Assessments
At CLC, we champion early intervention for academic and life success. Our comprehensive educational evaluations in Plymouth, MA, identify learning challenges and effective learning styles. These assessments reshape the learning experience, making it enjoyable and accessible for students who previously encountered obstacles.
Every new student enjoys a free consultation with our CLC director, reviewing academic history and performance. Understanding each student's strengths and challenges allows us to devise a personalized strategy for their educational journey.
Following the evaluation, a detailed testing report is provided to the student and their family, outlining areas of difficulty and our recommended programs and methods tailored to their specific needs.
Reading Tutoring in Plymouth, MA
Mastering reading poses significant challenges for young students, and in Plymouth, MA, CLC aids students in becoming proficient readers through accredited programs designed to elevate reading skills. Our reading programs cater to various conditions hindering reading, such as dyslexia. These include:
Orton-Gillingham

Tailored for learners struggling with sound-letter associations and reading sentence fluency, this phonetically based program builds foundational English language skills progressively.

About Wilson Reading System

A comprehensive reading and writing program, Wilson guides students with spelling difficulties through a 12-step process, ensuring mastery of individual words. Building on Orton-Gillingham, it emphasizes thorough comprehension at each stage, leading to reading and writing success.

The Lindamood Phoneme Sequencing™ Program (LiPS)

Known as LiPS, this program is highly effective for learners struggling with distinct sounds or phonemes in spoken words. It teaches proper lip, tongue, and mouth use, forming the foundation of letters and words.

The Nancibell® Visualizing & Verbalizing® Program

This program, utilizing a visual approach, helps students create mental images while reading and writing, enhancing performance across subjects beyond reading and writing.
Math Tutors in Plymouth, Massachusetts
Unlocking mathematical potential, CLC supports students in Plymouth, MA, with diverse teaching methods covering basic to advanced mathematics. Our unique math programs enable students to "see" solutions and formulas, enhancing problem-solving abilities. Emphasizing documentation of math formulas and solutions aids long-term retention.
Children comprehend math concepts more effectively through hands-on experiences, and the TouchMath program facilitates this, allowing students to visualize and interact with numbers during addition, subtraction, and multiplication.
Test Preparation in Plymouth, MA
Recognizing the stress of crucial exams for Plymouth students, CLC provides comprehensive test preparation for various exams, including SAT, PSAT, SSAT, MCAS, and more. Our one-on-one approach ensures students are fully prepared and confident, and our instructors stay current with exam formats and questions.
Additionally, adult clients receive support for GED exam preparation, expanding their job opportunities upon completion.
Advantages of CLC Tutoring in Plymouth, MA
Convenience is prioritized at CLC, offering amenities such as ample parking and modern centers equipped with computers. Private, quiet work areas minimize distractions for students.
Safety remains paramount, with CLC staff undergoing rigorous background checks. Specialization in multisensory programs is a hallmark of our educators.
Financial aid is available for eligible students at CLC, and clients with siblings enjoy a 10% tuition discount. CLC does not enforce binding contracts, allowing students to continue receiving support as long as needed.
Get a Free Evaluation Today
Ready to set your child on the path to improved learning? Schedule a free assessment with us in Plymouth, MA by contacting us today.
ADD vs. ADHD: Understanding the Distinction
ADD and ADHD are terms that may cause confusion. In the past, they were distinct diagnoses, with ADD characterized by withdrawal, spaciness, and difficulty focusing, and ADHD in children marked by excessive energy and hyperactive behavior.
Today, ADD is considered outdated, and ADHD encompasses all behaviors indicating an inability to focus, with or without hyperactivity. Some doctors may still use ADD or ADHD to describe specific conditions, aiming to avoid confusion.
Diagnosing ADD and ADHD in Plymouth Kids
Diagnosing ADD or ADHD in Plymouth, MA involves interviews with parents, teachers, and relatives to assess symptoms. Standard guidelines from the American Academy of Pediatrics or the American Psychiatric Association's DSM are followed. Vision and hearing checks, along with a thorough physical exam, rule out other medical conditions. Upon diagnosis, informing educators is crucial for appropriate classroom support.
220 Reservoir St, #6
Needham, MA 02494
(781) 444-5193
About Plymouth, MA
Plymouth, Massachusetts, holds a significant place in American history as the site of the landing of the Mayflower Pilgrims in 1620. Known as "America's Hometown," Plymouth is rich in historical charm and cultural heritage. Visitors can explore the iconic Plymouth Rock, a symbol of the Pilgrims' arrival, and the nearby Plimoth Patuxet Museums, offering immersive experiences of colonial life. The town boasts scenic coastal landscapes, including Plymouth Harbor and stunning views of the Atlantic Ocean. Beyond its historical allure, Plymouth offers a vibrant community with charming shops, seafood restaurants, and a welcoming atmosphere. With a mix of history, natural beauty, and a thriving community, Plymouth, MA, invites both residents and tourists to discover the enduring spirit of America's early beginnings.
Are you new to Plymouth? Check out these local favorites:
Related Plymouth MA Tutoring Searches
tutoring services for children with special needs Plymouth MA
tutors for children with dyslexia in Plymouth
Plymouth after school tutoring
test prep tutors Plymouth MA
tutoring company in Plymouth
Plymouth educational assessments
find a tutor in your area Plymouth MA
dyslexia assessments in Plymouth
Plymouth educational evaluations
after school tutoring programs Plymouth MA
Orton-Gillingham tutors in Plymouth
Plymouth private tutoring companies
Lindamood Phoneme Sequencing™ Plymouth MA
Nancibell® Visualizing & Verbalizing® in Plymouth
Plymouth study skills programs
Commonwealth Learning Center supports clients throughout all of Plymouth, MA, including the following zip codes: 02330, 02332, 02345, 02360, 02361, 02362, 02381, 02532, and 02571. Click here to return to our Massachusetts service area page.