Our Private Reading & Math Tutors Specialize in Helping Northampton Students With Learning Challenges Including Dyslexia, ADHD, Language-Based Learning Disabilities, and More
The Commonwealth Learning Center (CLC) is a non-profit educational center established in 1988 by the Stratford Foundation. We provide one-to-one teaching, assisting students from Northampton and beyond, using a customized plan to meet the needs of each student.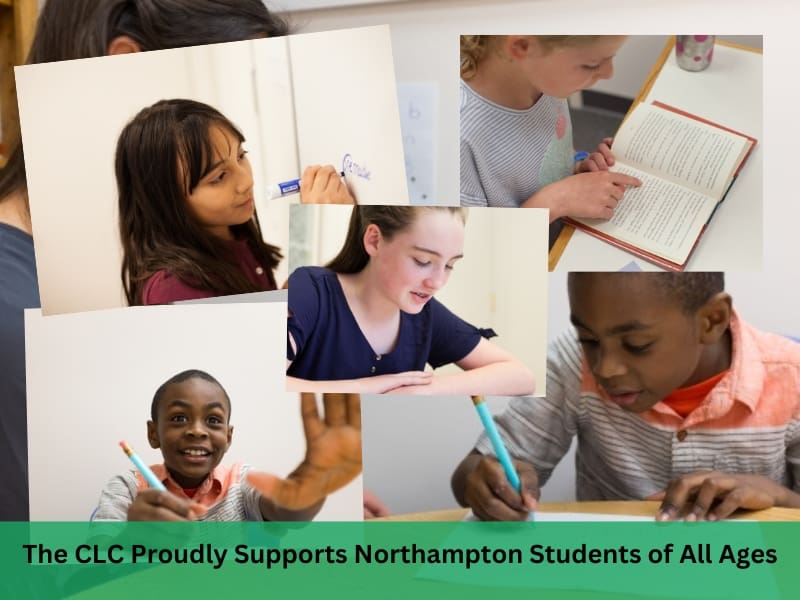 Our teachers have special expertise in working with students who have learning disabilities, including dyslexia, ADHD, language-based learning disabilities, non-verbal learning disabilities, and executive function difficulties. Our team also offers educational assessments.
The CLC offers programs for students in kindergarten through twelfth grade, for college students, and for adults who wish to improve their basic skills. Tutoring services are available in reading, writing, math, exam preparation, academic support, and study skills. Our educators are highly skilled and trained in methods that have been proven to be particularly effective for students who struggle to learn through traditional curriculum materials.
From learning to master their note-taking skills to strengthening their understanding of how to be successful with learning differences such as dyslexia or ADHD, our students thrive in our relaxed and supportive teaching environment.
Commonwealth Learning Center
220 Reservoir St #6
Needham, MA 02494
(781) 444-5193
Here are some of the services we offer our Northampton students:
Local Tutoring Services
Tutoring
Study Skills Program
SAT, PSAT, SSAT, and ISEE Exam Preparation
College Prep
Tutoring Services for Adults
Test Preparation
The Landmark Method for Teaching Arithmetic
Tutoring Programs
Orton-Gillingham
Tutoring Services for Kids
Educational Assessments
Project Read® Reading Comprehension
Elementary Math Tutor
On Cloud Nine® Math
Dyslexia Tutoring Specialists
TouchMath®
GED Test Prep
Elementary Tutoring
Wilson Reading System
Advanced Math Tutors
MCAS Test Preparation
Educational Services
Tutoring for Learning Differences
Testing and Diagnostic Program
Read More...
On This Page
Services Available to Northampton Students
Personalized Tutoring Services in Northampton, Massachusetts at Commonwealth Learning Center
Our Focus Areas Encompass
Educational Evaluations/Assessments at CLC
Reading Tutoring Programs in Northampton, MA
Orton-Gillingham Program
Wilson Reading System
LiPS (Lindamood Phoneme Sequencing™) Program
Nancibell® Visualizing & Verbalizing® Program
Math Tutoring in Northampton, Massachusetts
Comprehensive Test Preparation in Northampton, MA
Benefits of Choosing CLC Tutoring in Northampton, MA
Contact Us for a Complimentary Assessment
ADD vs. ADHD: Is There a Distinction?
Diagnosing ADD and ADHD in Northampton Kids
About Northampton, MA
Local Northampton favorites
Related Topics for Northampton Services
Personalized Tutoring Services in Northampton, Massachusetts at Commonwealth Learning Center
At Commonwealth Learning Center (CLC), we distinguish ourselves through a range of advantages that set us apart from other tutoring centers. Unlike facilities that employ group instruction, our educators engage in one-on-one sessions with our clients, ensuring tailored attention to individual needs. At CLC, we acknowledge the uniqueness of each student, regardless of age, from elementary to adulthood, and we provide the necessary support in a nurturing and compassionate environment.
Whether a student faces academic challenges or learning disabilities, our programs and teaching methods are expertly designed to address a spectrum of issues, including ADHD, dyslexia, executive function difficulties, language-based learning disabilities, and non-verbal learning disabilities. Our educators are highly qualified, holding advanced degrees in special education, mathematics, and reading.
Our Focus Areas Encompass:
Educational Evaluations/Assessments at CLC
Early intervention is at the core of our educational philosophy at CLC. Our comprehensive educational assessments are instrumental in identifying learning challenges and effective learning styles. These evaluations can be life-changing, enabling students to grasp previously elusive concepts.
Each new student benefits from a complimentary consultation with our CLC director, during which we assess their academic history and performance. Understanding a student's strengths and weaknesses allows us to craft a personalized strategy tailored to their unique requirements.
After the evaluation, students and parents receive a testing report pinpointing areas that need improvement and suggesting the most suitable programs and methods for their specific situation.
Reading Tutoring Programs in Northampton, MA
Mastering reading skills can be a formidable task for young learners. In Northampton, Massachusetts, CLC is dedicated to fostering improved reading abilities through accredited programs, effectively addressing reading-related challenges like dyslexia. Our array of reading programs includes:
Orton-Gillingham Program

This program is particularly beneficial for students who struggle with sound-letter associations and often encounter reading difficulties. It employs a phonetically-based approach, building students' understanding of the fundamental elements of the English language.

Wilson Reading System

Designed for students grappling with spelling difficulties, this program guides them through a structured 12-step process, ensuring their ability to read individual words over time. Emphasizing repetition and review solidifies learning before progressing to the next level.

LiPS (Lindamood Phoneme Sequencing™) Program

LiPS assists students who struggle with processing individual sounds in words by teaching them how to articulate words correctly. This program enhances their ability to read and write by focusing on the formation of letters and words through proper use of the lips, tongue, and mouth.

Nancibell® Visualizing & Verbalizing® Program

Employing a visual approach, this program helps learners develop mental imagery while reading and writing. Enhancing their understanding and retention of information through visualization contributes to success across various academic areas.
Math Tutoring in Northampton, Massachusetts
At CLC, we support students in reaching their full mathematical potential by employing diverse teaching strategies across all levels, from basic arithmetic to advanced pre-college mathematics. Our unique math programs encourage students to visualize formulas and solutions, enabling effective problem-solving. We emphasize the importance of documenting math formulas and solutions as a method to reinforce understanding.
For younger students, our TouchMath program utilizes a multisensory approach, allowing them to add, subtract, and multiply numerals by incorporating tactile elements.
Comprehensive Test Preparation in Northampton, MA
Facing exams can be a daunting experience for Northampton students, particularly when these assessments are pivotal for college or private high school admissions. At CLC, we alleviate the stress of test preparation by providing personalized, one-on-one assistance for exams such as the MCAS, SAT, PSAT, SSAT, and more. Our tutors are well-versed in the challenging questions presented by these exams, having extensively studied them.
Furthermore, we extend our support to adult clients preparing for the GED exam, which opens up enhanced job opportunities and allows them to officially graduate from high school.
Benefits of Choosing CLC Tutoring in Northampton, MA
At CLC, we prioritize convenience by offering ample parking at our centers and ensuring modern, well-equipped facilities with access to private workspaces for uninterrupted learning.
Our CLC educators undergo rigorous background checks, and we employ both part-time and full-time specialists. With their extensive expertise in multisensory programs, our instructors are well-prepared to assist students effectively.
We also offer assistance in determining eligibility for financial aid through CLC. Additionally, we provide a 10% discount for siblings, and we do not require our students to commit to long-term contracts, allowing them to continue visiting CLC for as long as they need assistance.
Contact Us for a Complimentary Assessment
Are you ready to support your educational journey or that of your child? We are delighted to offer a free assessment to assist you. Contact us today.
ADD vs. ADHD: Is There a Distinction?
ADD and ADHD are terms that are often confused. Do they have the same meaning?
The answer is both yes and no. In the past, ADD (attention deficit disorder) and ADHD (attention deficit hyperactivity disorder) were separate diagnoses. ADD referred to symptoms that did not include hyperactivity, often characterized by withdrawal, spaciness, difficulty focusing, and challenges with listening to instructions. On the other hand, ADHD in children was defined by high energy levels, excessive talking, and hyperactive behavior.
However, in contemporary usage, ADD is considered an outdated term, and ADHD is the recognized name for any behavior indicating an inability to focus, regardless of the presence of hyperactivity. Attention deficit disorder in children now falls under the umbrella of attention deficit hyperactivity disorder. Nevertheless, some doctors may still use ADD or ADHD to describe a specific condition in order to avoid confusion.
Diagnosing ADD and ADHD in Northampton Kids
When it comes to diagnosing ADD or ADHD, there is no single test. Instead, your child's doctor will conduct interviews with you, your child's teachers, relatives, and other adults who interact with them regularly to evaluate their symptoms and determine if they align with the criteria for ADD or ADHD. Standard guidelines from the American Academy of Pediatrics or the American Psychiatric Association's Diagnostic and Statistical Manual (DSM) are used during the diagnosis process. Additionally, your child will undergo vision and hearing tests, as well as a comprehensive physical examination, to rule out any other medical conditions that may present symptoms similar to those of ADD and ADHD.
If your child receives a diagnosis of either ADD or ADHD, it is important to inform their educators so that they can provide appropriate support and recommendations to improve their focus and performance in the classroom.
220 Reservoir St, #6
Needham, MA 02494
(781) 444-5193
Private Tutors Northampton, MA
About Northampton, MA
Northampton, located in the heart of the picturesque Pioneer Valley in Massachusetts, is a lively city celebrated for its diverse population and progressive ideals. Often dubbed the "Paradise City," Northampton boasts a delightful combination of historic buildings, thriving art and music scenes, and a strong dedication to social and environmental causes. Its downtown area is a vibrant hub, teeming with independent shops, eateries, and cafes, drawing in both locals and tourists alike. Situated near the scenic Connecticut River and surrounded by natural beauty, Northampton offers abundant opportunities for outdoor activities and exploration. Embracing a liberal and inclusive ethos, it continues to attract a diverse range of residents, solidifying its status as a dynamic and welcoming community in Western Massachusetts.
Are you new to Northampton? Check out these local favorites:
Related Northampton MA Tutoring Searches
tutoring services for children with special needs Northampton MA
tutors for children with dyslexia in Northampton
Northampton after school tutoring
test prep tutors Northampton MA
tutoring company in Northampton
Northampton educational assessments
find a tutor in your area Northampton MA
dyslexia assessments in Northampton
Northampton educational evaluations
after school tutoring programs Northampton MA
Orton-Gillingham tutors in Northampton
Northampton private tutoring companies
Lindamood Phoneme Sequencing™ Northampton MA
Nancibell® Visualizing & Verbalizing® in Northampton
Northampton study skills programs
Commonwealth Learning Center supports clients throughout all of Northampton, MA, including the following zip codes: 01035, 01053, 01060, 01061, 01062, 01063. Click here to return to our Western Massachusetts service area page.