Our Private Reading & Math Tutors Specialized in Helping Johnston Students With Learning Challenges Including Dyslexia, ADHD, Language-Based Learning Disabilities, and More
The Commonwealth Learning Center (CLC) is a non-profit educational center established in 1988 by the Stratford Foundation. We provide one-to-one teaching, assisting students from Johnston and beyond, using a customized plan to meet the needs of each student.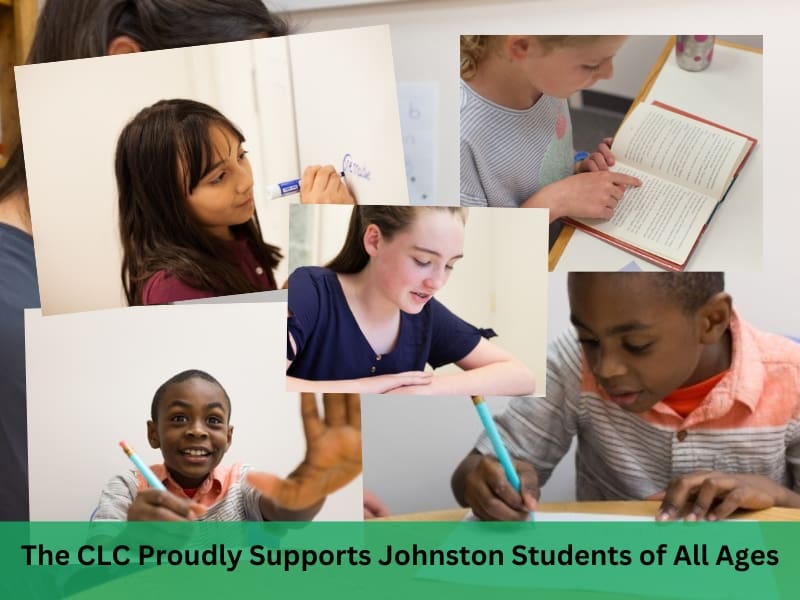 Our teachers have special expertise in working with students who have learning disabilities, including dyslexia, ADHD, language-based learning disabilities, non-verbal learning disabilities, and executive function difficulties. Our team also offers educational assessments.
The CLC offers programs for students in kindergarten through twelfth grade, college students, and for adults who wish to improve their basic skills. Tutoring services are available in reading, writing, math, exam preparation, academic support, and study skills. Our educators are highly skilled and trained in methods that have been proven to be particularly effective for students who struggle to learn through traditional curriculum materials.
From learning to master their note-taking skills to strengthening their understanding of how to be successful with learning differences such as dyslexia or ADHD, our students thrive in our relaxed and supportive teaching environment.
Commonwealth Learning Center
220 Reservoir St #6
Needham, MA 02494
(781) 444-5193
Here are some of the services we offer our Johnston students:
Project Read® Reading Comprehension
Advanced Math Tutors
Dyslexia Tutoring Specialists
Educational Assessments
Tutoring Programs
Tutoring Services for Adults
Study Skills Program
Test Preparation
College Prep
Testing and Diagnostic Program
Orton-Gillingham
Local Tutoring Services
TouchMath®
Tutoring for Learning Differences
MCAS Test Preparation
Elementary Math Tutor
Elementary Tutoring
Tutoring
Tutoring Services for Kids
GED Test Prep
The Landmark Method for Teaching Arithmetic
SAT, PSAT, SSAT, and ISEE Exam Preparation
Wilson Reading System
Educational Services
On Cloud Nine® Math
Read More...
On This Page
Services Available to Johnston Students
Commonwealth Learning Center: Personalized Tutoring in Johnston, RI
Our Primary Focus Areas
Educational Assessments
Johnston Reading Tutoring
Orton-Gillingham
Wilson Reading System
Lindamood Phoneme Sequencing™ Program (LiPS)
Nancibell® Visualizing & Verbalizing® Program
Math Tutors in Johnston, RI
Test Preparation in Johnston, RI
Advantages of CLC Tutoring in Johnston, RI
Request a Free Assessment Today
Differentiating ADD vs. ADHD
Diagnosing ADD and ADHD in Johnston Kids
About Johnston, RI
Local Johnston Favorites
Related Topics for Johnston Services
Commonwealth Learning Center: Personalized Tutoring in Johnston, RI
Serving the Johnston, Rhode Island community, Commonwealth Learning Center (CLC) offers a distinctive tutoring experience. Unlike traditional group settings, we tailor our approach to each student, ensuring individualized attention. Recognizing the unique challenges and learning objectives of every client, CLC provides a nurturing atmosphere for students of all ages, spanning from kindergarten through adulthood.
Our services cater to diverse learners, ranging from those seeking homework aid to those grappling with learning disabilities. Our dedicated educators, with advanced degrees in math, reading, and special education, possess a wealth of expertise in assisting individuals managing ADHD, dyslexia, language-based learning difficulties, executive function challenges, and non-verbal learning disabilities.
Our Primary Focus Areas:
Educational Assessments
Early intervention is paramount for academic success. CLC offers comprehensive educational evaluations, identifying learning barriers and optimal learning styles. These evaluations transform learning experiences, making them accessible and enjoyable for those who previously struggled.
New students receive a complimentary consultation with our CLC director, who reviews academic history and performance. This insight informs our tailored strategy development for each student's educational journey.
Following assessments, families receive detailed testing reports with recommendations, customized to address specific areas of difficulty.
Johnston Reading Tutoring
Mastering reading is a challenge, especially for young learners. CLC assists Johnston, RI students in becoming proficient readers through accredited programs targeting reading skills, even for those facing dyslexia. Our reading programs encompass:
Orton-Gillingham

This program supports students struggling to connect sounds with letters, often experiencing pauses when reading sentences. By focusing on phonetics, it gradually enhances their English language skills.

Wilson Reading System

A comprehensive program guiding students with spelling difficulties through a 12-step process, enabling them to read individual words over time. It builds upon Orton-Gillingham concepts, ensuring solid reading and writing skills.

Lindamood Phoneme Sequencing™ Program (LiPS)

Also known as LiPS, this program helps learners struggling with distinct sounds in words, teaching proper articulation to improve reading and writing by understanding the foundation of letters and words.

Nancibell® Visualizing & Verbalizing® Program

Through visualization, this program helps students excel in various subjects by developing mental images while reading and writing, enhancing comprehension beyond reading and writing skills.
Math Tutors in Johnston, RI
We unlock mathematical potential with diverse teaching methods, covering all levels from basic arithmetic to advanced pre-college math. Our unique math programs enable students to "see" solutions and formulas, enhancing problem-solving skills. Documenting math formulas and solutions aids retention.
Children benefit from hands-on math experiences. We incorporate the TouchMath program, enabling students to interact with numbers while adding, subtracting, and multiplying numerals.
Test Preparation in Johnston, RI
Facing pivotal exams in Johnston, RI? CLC eases preparation stress. Whether SAT, PSAT, SSAT, MCAS, or others, our personalized approach ensures readiness. Instructors remain updated on exam formats and questions, guiding students effectively.
Additionally, adult clients preparing for the GED exam can unlock job opportunities by officially graduating from high school.
Advantages of CLC Tutoring in Johnston, RI
At CLC, convenience is prioritized, offering ample parking and modern centers equipped with computers. Private workspaces minimize distractions.
Safety is paramount; staff undergo rigorous background checks. Teachers are skilled in specialized multisensory programs.
Financial aid is available, and siblings enjoy a 10% tuition discount. No binding contracts allow for ongoing support.
Request a Free Assessment Today
Ready to enhance learning? Our free assessment awaits. Contact us to embark on the journey of improvement.
Differentiating ADD vs. ADHD
ADD and ADHD often confuse. Do they mean the same?
Yes and no. Previously, ADD (attention deficit disorder) and ADHD (attention deficit hyperactivity disorder) were distinct. ADD lacked hyperactivity, while ADHD was marked by energy, talking, and hyperactive behavior.
Today, ADD is outdated; ADHD covers focus issues with or without hyperactivity. Clinicians might use either term to avoid confusion.
Diagnosing ADD and ADHD in Johnston Kids
No single test for ADD or ADHD. Interviews with parents, teachers, and more guide diagnosis. Guidelines from AAP or APA's DSM were used. Vision, hearing, and physical checks rule out other causes.
Inform educators if diagnosed, for focused classroom support.
220 Reservoir St, #6
Needham, MA 02494
(781) 444-5193
About Johnston, RI
Johnston, Rhode Island, is a charming town that offers a perfect blend of historic appeal and modern convenience. Situated in the heart of the state, Johnston boasts a welcoming community and a rich heritage that's evident in its architecture and landmarks. From its tranquil neighborhoods to its local businesses, Johnston exudes a warm atmosphere that captures the essence of New England living. With its proximity to both natural beauty and urban amenities, residents and visitors alike can enjoy a diverse range of recreational activities, cultural events, and dining options.
Are you new to Johnston? Check out these local favorites:
Related Johnston, RI Tutoring Searches
tutoring services for children with special needs Johnston RI
tutors for children with dyslexia in Johnston
Johnston after school tutoring
test prep tutors Johnston RI
tutoring company in Johnston
Johnston educational assessments
find a tutor in your area Johnston RI
dyslexia assessments in Johnston
Johnston educational evaluations
after school tutoring programs Johnston RI
Orton-Gillingham tutors in Johnston
Johnston private tutoring companies
Lindamood Phoneme Sequencing™ Johnston RI
Nancibell® Visualizing & Verbalizing® in Johnston
Johnston study skills programs
Commonwealth Learning Center supports clients throughout all of Providence, RI including the following zip code: 02911. Click here to return to our Rhode Island service area page.