Our Private Reading & Math Tutors Are Specialized in Helping Dover Students With Learning Challenges Including Dyslexia, ADHD, Language-Based Learning Disabilities, and More
The Commonwealth Learning Center (CLC) is a non-profit educational center established in 1988 by the Stratford Foundation. We provide one-to-one teaching, assisting students from Dover and beyond, using a customized plan to meet the needs of each student.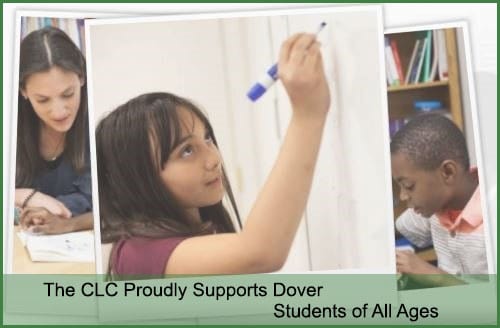 Our teachers have special expertise in working with students who have learning disabilities, including dyslexia, ADHD, language-based learning disabilities, non-verbal learning disabilities, and executive function difficulties. Our team also offers educational assessments.
The CLC offers programs for students in kindergarten through twelfth grade, for college students, and for adults who wish to improve their basic skills. Tutoring services are available in reading, writing, math, exam preparation, academic support, and study skills. Our educators are highly skilled and trained in methods that have been proven to be particularly effective for students who struggle to learn through traditional curriculum materials.
From learning to master their note-taking skills to strengthening their understanding of how to be successful with learning differences such as dyslexia or ADHD, our students thrive in our relaxed and supportive teaching environment.
Commonwealth Learning Center
220 Reservoir St #6
Needham, MA 02494
(781) 444-5193
Here are some of the services we offer our Dover students:
College Prep
Tutoring Programs
Tutoring
Tutoring for Learning Differences
Educational Services
On Cloud Nine® Math
Tutoring Services for Adults
Local Tutoring Services
Study Skills Program
MCAS Test Preparation
GED Test Prep
Testing and Diagnostic Program
TouchMath®
Test Preparation
Elementary Math Tutor
The Landmark Method for Teaching Arithmetic
SAT, PSAT, SSAT, and ISEE Exam Preparation
Wilson Reading System
Educational Assessments
Tutoring Services for Kids
Orton-Gillingham
Project Read® Reading Comprehension
Elementary Tutoring
Dyslexia Tutoring Specialists
Advanced Math Tutors
Read More...
On This Page
Services Available to Dover Students
Commonwealth Learning Center Offers Customized Tutoring in Dover, Massachusetts
Here are the four main services we specialize in:
We Offer Educational Assessments
Our Dover Reading Tutoring Program
About Orton-Gillingham
The Wilson Reading System Program
The LiPS Program
Nancibell® Visualizing & Verbalizing® Program
Math Tutoring in Dover, Massachusetts
Test Preparation in the Dover Area
There's Many Reasons in Dover Massachusetts to Select CLC Tutoring
Contact Us For a Free Assessment
ADD vs ADHD: Is There a Difference
Diagnosing ADD and ADHD in Dover Kids
About Dover, Massachusetts
Local Dover favorites
Related Topics for Dover Services
Commonwealth Learning Center Offers Customized Tutoring in Dover, Massachusetts
Commonwealth Learning Center (CLC) is a different kind of tutoring center. Other tutoring facilities may use group settings to coach their clients, but we provide personalized attention by supporting them one-on-one. At CLC we understand that every student has their own obstacles and learning goals that make them and their situation unique. Our caring, supportive environment supports all of our students regardless of their stage of life (K-1 through adulthood.)
We work with students of all abilities, regardless if they need a little extra homework help or are faced with a learning disability. Our programs and teaching methods are designed to address clients with learning disabilities that include ADHD, dyslexia, executive function difficulties, language-based learning disabilities, and non-verbal learning disabilities. Our educators are certified and experienced with postgraduate degrees in special education, reading, and math.
Here are the four main services we specialize in:
We Offer Educational Assessments
Our specialists believe in early intervention to help catch any learning difficulties and guide a student on the pathway to academic and life success. These evaluations can help transform a student's life by enabling them to grasp concepts that at one time alluded them.
All new students begin with a complimentary consultation with our CLC director during which their academic performance and history is reviewed. Discovering each student's strengths and challenges helps us create a personalized strategy just for them.
Shortly after the evaluation, the child and their parents will be provided with a testing report that identifies areas of difficulty and what programs and methods we recommend for their specific situation.
Our Dover Reading Tutoring Program
Reading well can be among the toughest things for a young student to learn how to do. We help foster better literacy skills in Dover MA thanks to our selection of accredited programs that are proven to improve reading. All of them can address conditions that make reading challenging for students such as dyslexia. These include the following:
About Orton-Gillingham

This is a great choice for learners who have a hard time matching sounds with associated letters and often pause when trying to get through a sentence. It's a phonetically based program that teaches students the basic building blocks of the English language and then builds from there.

The Wilson Reading System Program

This 12-step program is ideal for students who have a difficult time with spelling and reading stand-alone words when they're not being used in a sentence. The steps are a little more advanced than the concepts of Orton-Gillingham and help students remember principles through repeating concepts. The program ensures students fully understand the current level before progressing to the subsequent one, which results in reading and writing success.

The LiPS Program

Also called LiPS, this program helps students who are not able to process individual sounds in words by showing them how to articulate words to then be able to write and read them. It teaches how the lips, tongue, and mouth form certain sounds which create letters and words.

Nancibell® Visualizing & Verbalizing® Program

This program helps students develop mental imagery as they hear and read words. This strengthens their academic ability across all courses of study, not just reading and writing.

Math Tutoring in Dover, Massachusetts

We work with students to reach their potential in math by using various teaching methods in all mathematics levels from basic adding and subtracting to advanced pre-college math. Our unique math programs help students at all levels "see" formulas and solutions to solve problems. We show learners how writing down math formulas and solutions enables them to retain what they've learned.

Our TouchMath program is a wonderful multisensory tool. It reinforces mathematical concepts by having children "touch" numbers to learn how to add, subtract, and multiply.
Test Preparation in the Dover Area
When Dover MA students face an exam for college or high school admissions, we help take the worry out of getting ready for it. Students preparing to tackle the SAT, PSAT, SSAT, MCAS, or other exams will be totally prepared for them with the help of our one-on-one teaching approach. Our educators are knowledgeable in the styles of questions presented in these tests and can coach students to ensure that they'll be prepared and fully confident.
We help mature students attain more job opportunities by helping them prepare for the GED exam.
There are Many Reasons in Dover Massachusetts to Select CLC Tutoring
In addition to our individualized approach, clients will find plenty of parking at our locations. We offer modern facilities and the latest computer models. All students have access to private work areas so they will not be interrupted.
All CLC instructors undergo background checks and we hire both full-time and part-time teachers. Our teachers are trained in specialized multisensory programs.
We can help you find out if your child is eligible to receive financial aid with CLC. A 10% discount is available for siblings. We do not lock our students into contracts; they simply visit the CLC as long as they need to.
Contact Us For a Free Assessment
Do you feel ready to help your child move forward on the next step to assisting their learning? We're happy to assist you with a free assessment; contact us today.
ADD vs ADHD: Is There a Difference?
ADD and ADHD are two terms that many people easily confuse. Don't they mean the same thing?
Yes and no. At one time, ADD (attention deficit disorder) and ADHD (attention deficit hyperactivity disorder) were two slightly different diagnoses. ADD in children was defined by symptoms that didn't include hyperactivity, but being more withdrawn, "spacey", and having a hard time focusing and listening to instructions. ADHD in kids, on the other hand, was defined by having an abundance of energy, talking incessantly, and demonstrating "bouncing off the walls" behavior.
Today, however, ADD is considered an outdated term while ADHD is the medically recognized name for any behavior that indicates an inability to focus, whether the child is "hyper" or not. So, attention deficit disorder in children really falls under the umbrella of attention deficit hyperactivity disorder. But your children's doctor may still use ADD or ADHD to describe your child's specific condition. They may still prefer to give an ADD diagnosis or an ADHD diagnosis to avoid confusion.
Diagnosing ADD and ADHD in Dover Kids
So, will your doctor conduct an ADD symptoms test or ADHD assessment for your child to determine if they have either? Believe it or not, there's no single test to diagnose ADD or ADHD. Your child's doctor will instead interview you, your child's teachers, relatives, and other adults they come into regular contact with to determine if their symptoms are in line with ADD or ADHD. They'll use standard guidelines from the American Academy of Pediatrics or the American Psychiatric Association's Diagnostic and Statistical Manual (DSM) when making the diagnosis. Your child will also have their vision and hearing checked and receive a full physical exam to rule out any other medical conditions that may be causing symptoms similar to that of ADD and ADHD.
If your child is diagnosed with either, it's important to let their educators know so they can work with them and make recommendations to you to help improve their focus in the classroom.
220 Reservoir St, #6
Needham, MA 02494
(781) 444-5193
130 Sylvan Street
Danvers, MA 01923
(978) 774-0094
About Dover, MA
Dover is a town in Norfolk County, Massachusetts, United States. The town of Dover is an affluent suburban community located southwest of Boston along the Route 9 corridor. The population was 6,279 in 2016, with 2,008 households. Dover, which was first settled in 1640, became a part of Dedham in 1748 and was known as the Springfield Parish. Estimated median household income in 2016: $173,748 (it was $143,312 in 2000) and the median home value is $858,200. Dover is one of the wealthiest towns in MA and has the best (or very close to the best) school system. The unemployment rate in Dover is 3.9% (U.S. avg. is 5.2%).
Are you new to Dover? Check out these local favorites:
Related Dover MA Tutoring Searches
tutoring services for children with special needs Dover MA
tutors for children with dyslexia in Dover
Dover after school tutoring
test prep tutors Dover MA
tutoring company in Dover
Dover educational assessments
find a tutor in your area Dover MA
dyslexia assessments in Dover
Dover educational evaluations
after school tutoring programs Dover MA
Orton-Gillingham tutors in Dover
Dover private tutoring companies
Lindamood Phoneme Sequencing™ Dover MA
Nancibell® Visualizing & Verbalizing® in Dover
Dover study skills programs
Commonwealth Learning Center supports clients throughout all of Dover, Massachusetts, including the following zip codes: 02030. Click here to return to our MA service area page.