Our Private Reading & Math Tutors Specialize in Helping Amherst Students With Learning Challenges Including Dyslexia, ADHD, Language-Based Learning Disabilities, and More
The Commonwealth Learning Center (CLC) is a non-profit educational center established in 1988 by the Stratford Foundation. We provide one-to-one teaching, assisting students from Amherst and beyond, using a customized plan to meet the needs of each student.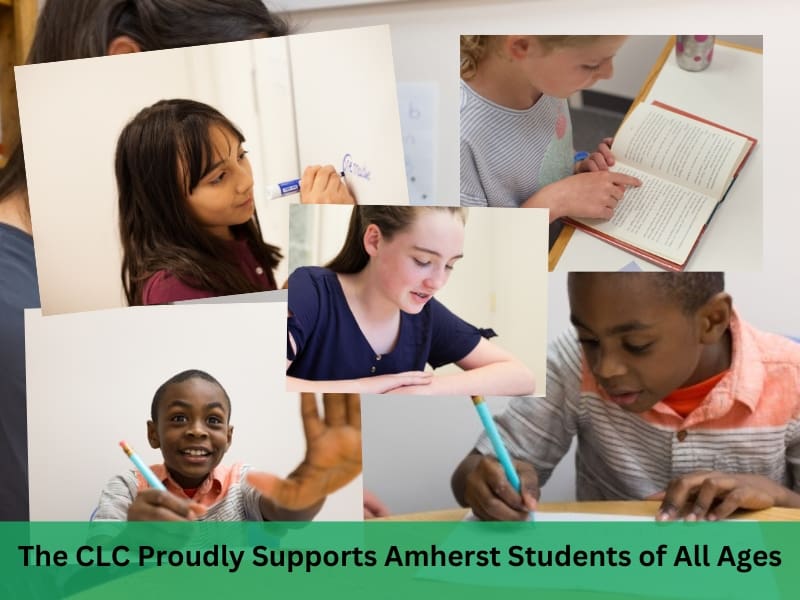 Our teachers have special expertise in working with students who have learning disabilities, including dyslexia, ADHD, language-based learning disabilities, non-verbal learning disabilities, and executive function difficulties. Our team also offers educational assessments.
The CLC offers programs for students in kindergarten through twelfth grade, for college students, and for adults who wish to improve their basic skills. Tutoring services are available in reading, writing, math, exam preparation, academic support, and study skills. Our educators are highly skilled and trained in methods that have been proven to be particularly effective for students who struggle to learn through traditional curriculum materials.
From learning to master their note-taking skills to strengthening their understanding of how to be successful with learning differences such as dyslexia or ADHD, our students thrive in our relaxed and supportive teaching environment.
Commonwealth Learning Center
220 Reservoir St #6
Needham, MA 02494
(781) 444-5193
Here are some of the services we offer our Amherst students:
The Landmark Method for Teaching Arithmetic
Project Read® Reading Comprehension
Educational Assessments
Local Tutoring Services
On Cloud Nine® Math
Tutoring Programs
Tutoring
Test Preparation
Orton-Gillingham
Wilson Reading System
Dyslexia Tutoring Specialists
TouchMath®
GED Test Prep
Elementary Math Tutor
Tutoring Services for Adults
Testing and Diagnostic Program
MCAS Test Preparation
Advanced Math Tutors
Tutoring Services for Kids
Study Skills Program
Educational Services
SAT, PSAT, SSAT, and ISEE Exam Preparation
Tutoring for Learning Differences
College Prep
Elementary Tutoring
Read More...
On This Page
Services Available to Amherst Students
Comprehensive Tutoring Services Tailored for Amherst, Massachusetts
Our Expertise Encompasses Four Key Services
Educational Evaluations and Assessments at CLC
Empowering Amherst Students in Reading
The Orton-Gillingham Program
The Wilson Reading System
The Lindamood Phoneme Sequencing™ Program (LiPS)
The Nancibell® Visualizing & Verbalizing® Program
Comprehensive Math Tutoring
Excellence in Test Preparation for Amherst Students
The Advantages of Choosing CLC Tutoring in Amherst MA
Embark on Your Educational Journey with a Complimentary Assessment
ADD vs. ADHD: Clarifying the Distinction
Diagnosing ADD and ADHD in Amherst Kids
About Amherst, MA
Local Amherst favorites
Related Topics for Amherst Services
Comprehensive Tutoring Services Tailored for Amherst, Massachusetts
Committed to providing a unique tutoring experience, Commonwealth Learning Center (CLC) sets itself apart from traditional tutoring centers. Our approach focuses on one-on-one interaction with each student, in contrast to group-based instruction offered elsewhere. At CLC, we acknowledge the individuality of each student, recognizing their specific challenges and learning objectives. Our compassionate educators, serving students from kindergarten to adulthood, foster a nurturing and relaxed learning environment.
Whether students require assistance with their coursework or face learning disabilities such as ADHD, dyslexia, executive function difficulties, language-based learning disabilities, or non-verbal learning disabilities, our programs and educators offer effective solutions. Our instructors hold advanced degrees in special education, mathematics, and reading, specializing in teaching students with diverse learning needs.
Our Expertise Encompasses Four Key Services:
Educational Evaluations and Assessments at CLC
Early intervention is pivotal for a child's academic and lifelong success, which is why CLC provides educational assessments. These evaluations uncover learning challenges and effective learning styles, transforming a student's educational experience from struggle to enjoyment. Every new student and their parents receive a complimentary consultation with our CLC director, analyzing their academic history and performance. This initial step enables us to identify a student's strengths and weaknesses, paving the way for a personalized teaching strategy. Following the assessment, students and parents receive a comprehensive testing report, pinpointing areas in need of improvement and recommending suitable programs and methods for enhancement.
Empowering Amherst Students in Reading
Mastering literacy can be a significant challenge for young learners. In Amherst, Massachusetts, CLC offers accredited programs proven to enhance reading skills and address conditions like dyslexia. Our reading programs include:
The Orton-Gillingham Program

Ideal for students who struggle to connect sounds with corresponding letters and often encounter pauses when reading sentences, this phonetically based program lays the groundwork for the English language, building upon it progressively.

The Wilson Reading System

A 12-step program is suitable for students who face challenges with spelling and reading individual words outside of a sentence context. This program extends beyond the phonics approach of Orton-Gillingham, emphasizing repetition to solidify learning. Students advance only after mastering previous concepts, ensuring success.

The Lindamood Phoneme Sequencing™ Program (LiPS)

LiPS helps students unable to process individual sounds within spoken words. It instructs them on articulating words to aid in reading and writing, demonstrating how the lips, tongue, and mouth form sounds, ultimately forming letters and words.

The Nancibell® Visualizing & Verbalizing® Program

This program cultivates mental imagery as students read and hear words, enhancing academic performance across various subjects in addition to reading and writing.

Comprehensive Math Tutoring

Covering elementary math through advanced concepts like calculus, our math programs employ diverse teaching methods, enabling students to visualize solutions. Students create their own math solutions book, reinforcing their understanding and retention of mathematical concepts. For younger learners, our TouchMath program utilizes a multi-sensory approach, teaching counting and arithmetic through tactile interaction with numbers.
Excellence in Test Preparation for Amherst Students
Facing exams for college or high school admissions can be daunting for Amherst, Massachusetts students. CLC eases the preparation process with personalized, one-on-one guidance. We prepare students for exams such as the SAT, PSAT, SSAT, MCAS, and more, ensuring they feel fully confident and prepared. Additionally, we assist adult learners in preparing for the GED exam, opening doors to greater job opportunities.
The Advantages of Choosing CLC Tutoring in Amherst MA
Our centers offer ample parking, the latest computer technology, and modern facilities. We provide students with private, distraction-free workspaces. All CLC instructors undergo comprehensive background checks and specialize in multisensory programs. We offer financial aid options and a 10% sibling tuition discount. Our commitment to flexibility means students receive instruction for as long as they require it, without restrictive contracts.
Embark on Your Educational Journey with a Complimentary Assessment
Are you ready to support your child's educational progress? Contact us today to schedule a complimentary assessment.
ADD vs. ADHD: Clarifying the Distinction
ADD and ADHD are frequently confused terms, but they carry distinct meanings. While ADD (attention deficit disorder) and ADHD (attention deficit hyperactivity disorder) were once separate diagnoses, today, ADHD is the recognized term encompassing both. ADHD represents an inability to focus, whether accompanied by hyperactivity or not, while ADD is characterized by withdrawn, unfocused behavior. Physicians may still use ADD or ADHD to describe specific conditions for clarity.
Diagnosing ADD and ADHD in Amherst Kids
Diagnosing ADD or ADHD in children involves comprehensive evaluation. Physicians interview parents, teachers, relatives, and other adults who interact with the child regularly, following established guidelines from reputable medical associations. Vision, hearing, and physical exams are conducted to eliminate other potential causes of similar symptoms. Should a diagnosis be confirmed, collaboration with educators is essential to improve focus and learning in the classroom.
220 Reservoir St, #6
Needham, MA 02494
(781) 444-5193
About Amherst, MA
Amherst, Massachusetts, nestled in the picturesque Pioneer Valley, is a vibrant and culturally rich town known for its diverse community and progressive values. Often referred to as a hub of intellect and creativity, Amherst boasts a charming blend of historic charm and academic prowess. Home to prestigious institutions like Amherst College, Hampshire College, and the University of Massachusetts Amherst, it fosters a stimulating intellectual environment. The town is surrounded by natural beauty, with rolling hills, scenic farmlands, and the nearby Holyoke Range offering ample opportunities for outdoor recreation. With its thriving arts scene, independent bookstores, and a commitment to social and environmental activism, Amherst continues to attract a diverse population and remains a dynamic and inclusive community in Western Massachusetts.
Are you new to Amherst? Check out these local favorites:
Related Amherst MA Tutoring Searches
tutoring services for children with special needs Amherst MA
tutors for children with dyslexia in Amherst
Amherst after school tutoring
test prep tutors Amherst MA
tutoring company in Amherst
Amherst educational assessments
find a tutor in your area Amherst MA
dyslexia assessments in Amherst
Amherst educational evaluations
after school tutoring programs Amherst MA
Orton-Gillingham tutors in Amherst
Amherst private tutoring companies
Lindamood Phoneme Sequencing™ Amherst MA
Nancibell® Visualizing & Verbalizing® in Amherst
Amherst study skills programs
Commonwealth Learning Center supports clients throughout all of Amherst, MA, including the following zip codes: 01002, 01003, 01004, 01059. Click here to return to our Western Massachusetts service area page.