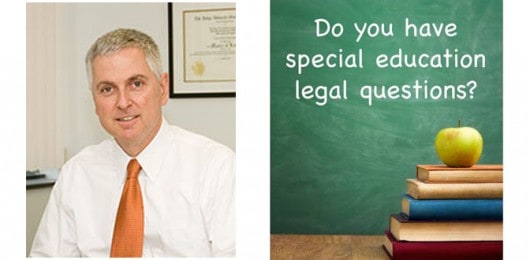 Advocating for children with special needs can be a confusing and overwhelming experience for parents. Parents of children who require special education services quickly learn that they must be zealous advocates to help their children obtain the supports and placements that they need to make meaningful educational progress. When the system works in a way that allows a child to reach his potential, it is extremely rewarding for parents to see that their advocacy made a difference. On the other hand, it can be very frustrating when, despite the parents' best efforts, a child's needs are neglected and the child falls farther behind.
Parents who are best able to navigate the intricacies of the special education process share several common traits. Most importantly, effective parents are very involved in their child's education. They see themselves as equal partners with their child's teachers and school administrators, and they work to strike a fitting balance between unproductive "hovering" and appropriate participation in their child's education. They recognize that it is important for them to be active participants in team meetings by contributing information and questioning decisions that they don't understand.
Parents are often the first to realize that their child is struggling in school or that something is "just not right." Effective parents trust their instincts and seek evaluations to address their concerns, even when they are assured by teachers that "everything is OK."
Effective parents realize that they play a central role in obtaining an accurate diagnosis of their child's disability. They request evaluations through the school or, when needed, obtain independent educational evaluations from highly qualified professionals.
It is also important for parents to gain a basic understanding of special education rules and regulations. Some parents may learn about these regulations by simply reading notices of rights provided to them by the school through the special education process, while others may choose to become involved in groups or take advantage of the numerous websites designed to educate parents. Effective parents also recognize the importance of seeking advice before making major decisions about their child's education.
Effective parents also recognize the importance of maintaining their child's records in an organized manner. Each school year results in the development of numerous documents: evaluations, IEP, progress reports, and other correspondences, all of which provide valuable information about the child's disability and the school's response to the child's needs. While it certainly takes some effort to collect and organize these records, it is well worth taking the time to do it on an ongoing basis rather than attempting to piece things together years later.
While every child and team is different, attention to these important practices will help any parent become more effective in their important advocacy for their children.
Want to learn more about navigating the special education system as a parent? Join us for Attorney Sankey's workshop on 10 Traits of Effective Parents in Special Education at our Needham Learning Center on Tuesday, March 15, from 7-9pm.
---
Attorney Jeffrey Sankey is the founder of Sankey Law Offices. Attorney Sankey devotes a significant part of his practice to education law, representing students who require assistance to obtain special education services or who are facing disciplinary hearings.