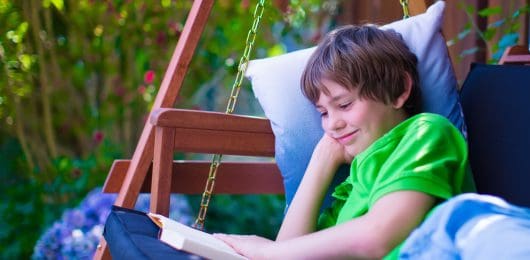 Dyslexia Awareness Month has us thinking about our bright and resilient students who work so hard to succeed despite learning differences. We have come up with a list of uplifting books that celebrate this spirit of tenacity. Happy reading!
Written by Beth Montgomery
Azzie wishes she could spend every day at school drawing and painting, but the teachers make her read. The trouble is, she struggles tremendously to read letters, words, and numbers. This makes her feel stupid. But she knows that she isn't.
Recommended for Grades 1-2
Written by Henry Winkler & Lin Oliver
TV star Henry Winkler often is quoted saying that writing the Hank Zipzer series (based on his own experiences in school) is what makes him the most proud. In this book, Hank is in a panic because it is time for the end of the year parent-teacher conferences. Hank concocts a scheme to distract his parents from the meeting because he is afraid he will have to repeat fourth grade.
Recommended for Grades 3-4 (Check out second grade Hank in the Here's Hank series for younger readers)
Written by Margarita Engle
Fefa struggles with words. She has "word blindness," or dyslexia, and the doctor says she will never read or write. But her mother has an idea. She gives Fefa a blank book filled with white pages. "Think of it as a garden," she says. Fefa begins to sprinkle words across the pages of her wild book. She lets her words sprout like seedlings, shaky at first, then growing stronger with each new day. Fefa's determination to learn to read ends up helping her family during a difficult time. This historical fiction book portrays a Cuban family during a turbulent period at the turn of the 20th century.
Recommended for Grade 5 and Up
Written by Lynda Mullaley Hunt
Ally has been smart enough to fool a lot of smart people. Every time she arrives in a new school, she is able to hide her poor reading skills by creating clever yet disruptive distractions. She is afraid to ask for help; after all, she thinks, how can you cure dumb? Her newest teacher sees the bright, creative student behind the trouble maker. With his help, Ally learns not to be so hard on herself and that dyslexia is nothing to be ashamed of. She discovers that there's a lot more to her than a label.
Recommended for Grade 5 and Up
Written by Victor Villasenor
Highly gifted and imaginative as a child, Victor coped with an unrecognized learning disability (he was finally diagnosed with dyslexia at age 44) and the frustration of growing up Latino in an English-only American school in the 1940s. Victor endured taunting from peers and teachers who beat him because he could not speak English. But he clung to his dream of one day becoming a writer.
Recommended for Middle and High School Students