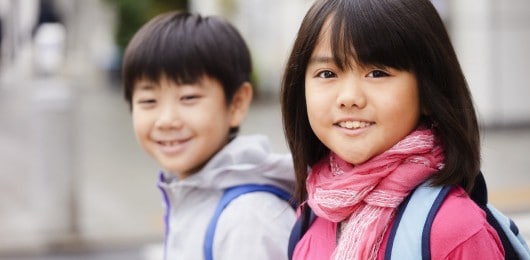 We've gathered a few of our favorite back-to-school tips to help ease the transition.
Before School Starts
Review all school information, fill out permission slips, and send in contact information
Mark your calendar and note important dates, especially back to school nights and arrange for babysitters if children attend different schools
Make copies of your child's health and emergency information
Turn the TV off and encourage children to do quiet games like puzzles or playing with flash cards
Designate a place to do homework and a place to put school bags so they are not forgotten
Get to know the support staff and teachers. Volunteer to be a class parent
Do a morning routine run-through before the first day of school arrives. This way, everyone knows what to expect.
Making the First Day Easier
Set your clocks 5-10 minutes fast. (Let it be your little secret.) This will help you get your family out the door with a little wiggle room.
Remind your child that there are probably a lot of students who are uneasy about the first day of school
Remind your child that they will see old friends and meet new ones
Find another child in the neighborhood with whom your child can walk to school or ride on the bus
If you feel it is needed, drive or walk your child and pick her up on the first day
Leave extra time
If your child has specific needs or information you want to share with the new teacher, write them down on an index card and send along
Start a fun new school tradition, such as having a special breakfast for the first day, taking a yearly photo or bringing a surprise to their new teacher.
Starting the Year off Right
Prepare the night before – get clothes ready, make lunches ahead of time, place papers, notebooks, and book bags by the front door or where they can't be left behind
Plan an early bedtime
Invest in a good alarm clock
Have a "portable office" – a crate or small container with the paper, pencils, tape, scissors, rulers, markers, post-it notes, etc. that your child may need while doing homework
Or find a designated place in your home for school supplies. Have your kids help you decide how to set it up.
Minimize distractions
If you have more than one child going back to school, use color coding. Each kid could have their own colored tray for important papers, and you can match the tray to backpacks, water bottles, notebooks, key chains, and so on! Less mix-up means less time wasted in the morning.
If your kids are older, try using a family calendar such as Google Calendar. You can link to one family calendar and keep track of each others' doctor's appointments, football practice, track meets, play rehearsal, carpool schedules, etc. A little organization can go a long way. (You can also use the color coding mentioned above for your calendar!)