Our Private Reading & Math Tutors Are Specialized in Helping Longmont Students With Learning Challenges Including Dyslexia, ADHD, Language-Based Learning Disabilities, and More
The Commonwealth Learning Center (CLC) is a non-profit educational center established in 1988 by the Stratford Foundation. We provide one-to-one teaching, assisting students from Longmont and beyond, using a customized plan to meet the needs of each student.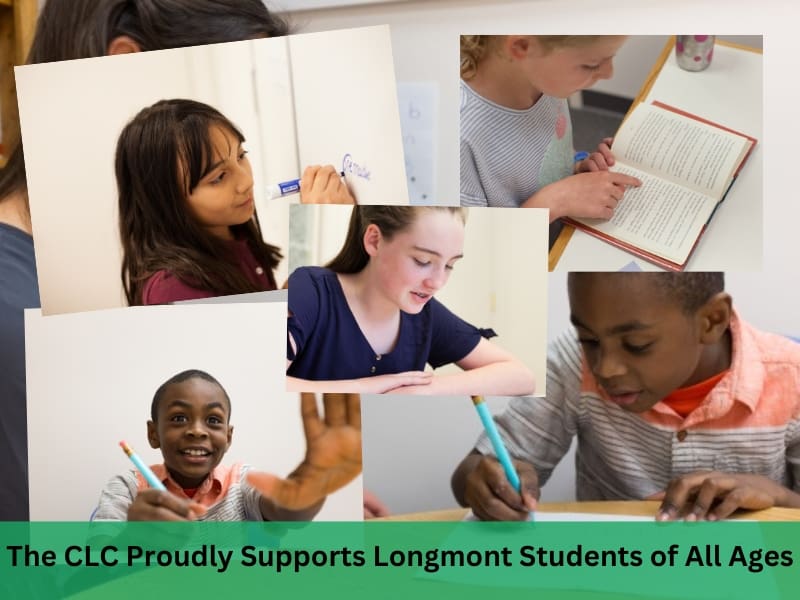 Our teachers have special expertise in working with students who have learning disabilities, including dyslexia, ADHD, language-based learning disabilities, non-verbal learning disabilities, and executive function difficulties. Our team also offers educational assessments.
The CLC offers programs for students in kindergarten through twelfth grade, for college students, and for adults who wish to improve their basic skills. Tutoring services are available in reading, writing, math, exam preparation, academic support, and study skills. Our educators are highly skilled and trained in methods that have been proven to be particularly effective for students who struggle to learn through traditional curriculum materials.
From learning to master their note-taking skills to strengthening their understanding of how to be successful with learning differences such as dyslexia or ADHD, our students thrive in our relaxed and supportive teaching environment.
Commonwealth Learning Center
220 Reservoir St #6
Needham, MA 02494
(781) 444-5193
Here are some of the services we offer our Longmont students:
Educational Services
Tutoring for Learning Differences
Elementary Math Tutor
GED Test Prep
Dyslexia Tutoring Specialists
The Landmark Method for Teaching Arithmetic
Tutoring Services for Kids
Orton-Gillingham
Study Skills Program
SAT, PSAT, SSAT, and ISEE Exam Preparation
Tutoring
Tutoring Programs
TouchMath®
Wilson Reading System
Testing and Diagnostic Program
Elementary Tutoring
College Prep
Advanced Math Tutors
MCAS Test Preparation
Test Preparation
On Cloud Nine® Math
Project Read® Reading Comprehension
Local Tutoring Services
Educational Assessments
Tutoring Services for Adults
Read More...
On This Page
Services Available to Longmont Students
Customized Longmont Colorado Tutoring Lessons with the Commonwealth Learning Center
Here are the top four specialized services we offer
Your First Step at CLC: Educational Assessments
Our Longmont Reading Tutoring Program
Orton-Gillingham
About The Wilson Reading System
About The Lindamood Phoneme Sequencing™ Program
Nancibell® Visualizing & Verbalizing®
We Assist Longmont Students with Math Tutoring
We Aid Longmont Students with Test Preparation
CLC Tutoring Offers Many Student Benefits in Longmont, Colorado
Take the First Step and Contact Us for Your Free Assessment
ADD vs ADHD: Is There a Distinction?
Diagnosing ADD and ADHD in Longmont Children
About Longmont, Colorado
Local Longmont favorites
Related Topics for Longmont Services
Customized Longmont Colorado Tutoring Lessons with the Commonwealth Learning Center
Commonwealth Learning Center (CLC) offers numerous advantages that set it apart from other tutoring centers. While other tutoring services rely on group settings, we provide personalized attention through one-on-one support. At CLC, we recognize that every student is unique, with their own individual challenges and learning objectives. We provide compassionate support to students of all ages (K-1 through adult) in a relaxed and caring environment.
We are the ideal solution for students who require extra assistance to overcome obstacles, including those with learning differences. Students facing various learning challenges such as non-verbal learning disabilities, ADHD, executive function difficulties, dyslexia, and language-based learning disabilities seek our help. Our instructors hold advanced degrees in special education, math, and reading, and are certified to teach students with learning challenges.
Here are the top four specialized services we offer:
Your First Step at CLC: Educational Assessments
Early intervention plays a crucial role in a child's academic success and overall life. That's why CLC provides educational evaluations to identify if a student has a learning disability and determine the most suitable learning style for them. These assessments have the power to transform a student's life by enabling them to grasp concepts that were previously elusive.
We offer a complimentary consultation with the CLC director for all new clients, which includes a review of past exams and results. This helps us identify a student's strengths and weaknesses, allowing us to create a personalized teaching plan tailored specifically to their needs. Shortly after the evaluation, the child and their parents will receive a testing report that identifies areas of difficulty and provides recommendations for suitable programs and methods.
Our Longmont Reading Tutoring Program
Developing strong literacy skills can be challenging for young students. In Longmont, Colorado, we foster improved reading abilities through our selection of accredited programs that have proven successful in enhancing reading skills. These programs effectively address conditions that make reading difficult for students, such as dyslexia. Some of our reading programs include:
This program is an excellent solution for students who struggle to connect sounds with corresponding letters and hesitate when reading sentences. It is a phonetically based program that teaches students the fundamental building blocks of the English language, starting from there.
About The Wilson Reading System
The Wilson Reading System is a comprehensive 12-step program that helps individuals who struggle with spelling and have difficulty reading words in isolation, without contextual cues. The program goes beyond phonics and ensures that learners fully grasp each stage before progressing, leading to success in reading and writing.
About The Lindamood Phoneme Sequencing™ Program
Known as LiPS, this phonetically based program helps students learn proper articulation of words before they start writing them. Educators using this program demonstrate how the lips, tongue, and mouth form specific letters and words.
Nancibell® Visualizing & Verbalizing®
This program utilizes a visual approach to help students develop mental images while reading and writing, aiding their memory of concepts. Students in this program gain the ability to excel in various areas of study, in addition to reading and writing.
We Assist Longmont Students with Math Tutoring
At CLC, we provide math tutoring for students of all ages and skill levels, helping them achieve their highest grades in math. Whether they are learning fundamental elementary school math or high school calculus, our unique math programs enable students to "see" solutions and formulas for problem-solving. We also assist students in creating a personalized math formulas manual that reinforces the concepts they have learned.
Children learn math more effectively when they have a visual and tactile experience with numbers. That's why we utilize the TouchMath program, which helps students add, subtract, and multiply numerals by allowing them to physically interact with numbers.
We Aid Longmont Students with Test Preparation
We understand that taking tests can be stressful for most students in Longmont, Colorado, especially when they are crucial exams for college or private high school admissions. Our one-on-one teaching approach ensures that students are fully prepared for exams such as the MCAS, SAT, PSAT, SSAT, or others. We are well-versed in the challenging questions found in these exams due to our extensive study of them.
Additionally, we assist adult learners in preparing for their GED exams, enabling them to obtain their high school completion and open up more job opportunities.
CLC Tutoring Offers Many Student Benefits in Longmont, Colorado
At CLC, we provide several convenient amenities, including ample parking at each of our locations. Our centers are equipped with the latest computer models and modern facilities. All students have access to private workspaces to ensure an uninterrupted learning experience.
All our tutors undergo background checks, and we employ both part-time and full-time specialists. Our instructors specialize in multisensory programs.
In certain cases, students may qualify for financial aid for tutoring services, and clients with siblings receive a 10% tuition discount. Students are not bound by contracts and can stay with us for as long as they need guidance.
Take the First Step and Contact Us for Your Free Assessment
Are you ready to support your child in their educational journey? Contact us to schedule a free assessment.
ADD vs ADHD: Is There a Distinction?
ADD and ADHD are two terms that often cause confusion. Do they mean the same thing?
Yes and no. Previously, ADD (attention deficit disorder) and ADHD (attention deficit hyperactivity disorder) were considered two separate diagnoses. ADD referred to symptoms that did not include hyperactivity, but rather withdrawal, spaciness, difficulty focusing, and trouble following instructions. ADHD, on the other hand, was characterized by excessive energy, constant talking, and "bouncing off the walls" behavior.
However, today, ADD is considered an outdated term, while ADHD is the recognized name for any behavior indicating an inability to focus, regardless of whether the child is hyperactive or not. Thus, attention deficit disorder in children falls under attention deficit hyperactivity disorder. Nonetheless, some doctors may still use ADD or ADHD to describe a child's specific condition to avoid confusion.
Diagnosing ADD and ADHD in Longmont Children
Is there a specific ADD symptoms test or ADHD assessment conducted by doctors to diagnose these conditions in children? Surprisingly, there is no single test for diagnosing ADD or ADHD. Instead, your child's doctor will conduct interviews with you, your child's teachers, relatives, and other adults in regular contact to determine if their symptoms align with ADD or ADHD. They will follow standard guidelines from the American Academy of Pediatrics or the American Psychiatric Association's Diagnostic and Statistical Manual (DSM) when making the diagnosis. Additionally, your child will undergo vision and hearing checks, as well as a comprehensive physical exam to rule out any other medical conditions that might manifest symptoms similar to those of ADD and ADHD.
If your child is diagnosed with either condition, it is crucial to inform their educators so that they can work together to make recommendations and improve your child's focus in the classroom.
220 Reservoir St, #6
Needham, MA 02494
(781) 444-5193
About Longmont, CO
Longmont, Colorado is a vibrant city nestled in the beautiful Front Range region. Known for its picturesque landscapes and close proximity to the Rocky Mountains, Longmont offers a blend of natural beauty and urban amenities. The city boasts a thriving arts and cultural scene, with numerous galleries, theaters, and music venues. Outdoor enthusiasts can explore the nearby hiking and biking trails, while food lovers can indulge in the local farm-to-table culinary experiences. Longmont also prides itself on its strong sense of community, with regular events and festivals that bring residents together. With its welcoming atmosphere and diverse attractions, Longmont is a delightful place to live, work, and visit.
Are you new to Longmont? Check out these local favorites:
Related Longmont CO Tutoring Searches
tutoring services for children with special needs Longmont CO
tutors for children with dyslexia in Longmont
Longmont after school tutoring
test prep tutors Longmont CO
tutoring company in Longmont
Longmont educational assessments
find a tutor in your area Longmont CO
dyslexia assessments in Longmont
Longmont educational evaluations
after school tutoring programs Longmont CO
Orton-Gillingham tutors in Longmont
Longmont private tutoring companies
Lindamood Phoneme Sequencing™ Longmont CO
Nancibell® Visualizing & Verbalizing® in Longmont
Longmont study skills programs
Commonwealth Learning Center supports clients throughout all of Longmont, CO, including the following zip codes: 80501, 80502, 80503, 80504. Click here to return to our Colorado service area page.